Why Create a Business Email?
You may have noticed that the majority of the emails you receive from companies have their own @domainname part of the email address. This is because these businesses have set up their own business email address. Rather than a user receiving an email from a random free gmail.com/hotmail.com account.
This is extremely important, so your business looks professional for the user.
What Is a Business Email?
A business email is an email address banded in a way that makes clear it comes from a business and communicates what business it comes from. In Practice, that usually means it is an email address that has been set up with a company's domain name.
Benefits of Having a Business Email
You may have hosting and other services with us here at hosting-australia.com, but not realize you are able to have multiple email accounts within that hosting account. There are multiple benefits of having a business email address, here are just some few of the major benefits:
Professionalism

If you are sending emails to users for a business, but these emails are coming from johnsmith@gmai.com. Your recipients will see the email address and not making the connection with the business no matter the subject, line leading them to and gloss passed it and send it to junk.
Improves branding
This helps remind current/future clients of your website/business by having your domain name being sent or displayed, making easier access for the user to your website.
Recognizable
Professionalism and recognizability go hand and hand, 69% of people say who an email comes from is a big part of whether they decide to open it.
How to Setup your new Business Email
Register your domain
You will need to register your new business's domain; this is the URL users will type into their browser to reach your website. It is important to remember to keep your domain short and to the point. For example, if you have a business John Smith's Landscaping supplies. It will be difficult/frustrating for users to type johnsmithslandscapingsupplies.com.au. Therefore, it is important to think of the domain name as a good brand tool as well.
Register your new domain name HERE!
Sign up for hosting
To access the tools required to create an email address for your domain, you need to have your hosting set up as well. This is also a major part not in just setting up your business email, but also necessary for your website to be online.
Find the right hosting plan for you HERE!
Follow these easy steps, for creating an email account via cPanel
First, you will need to have access to your cPanel. If you are not sure how to access your cPanel, 

CLICK HERE

.
On the cPanel home page. From the main page in cPanel, click the Email Accounts link. this can be found under the Email header.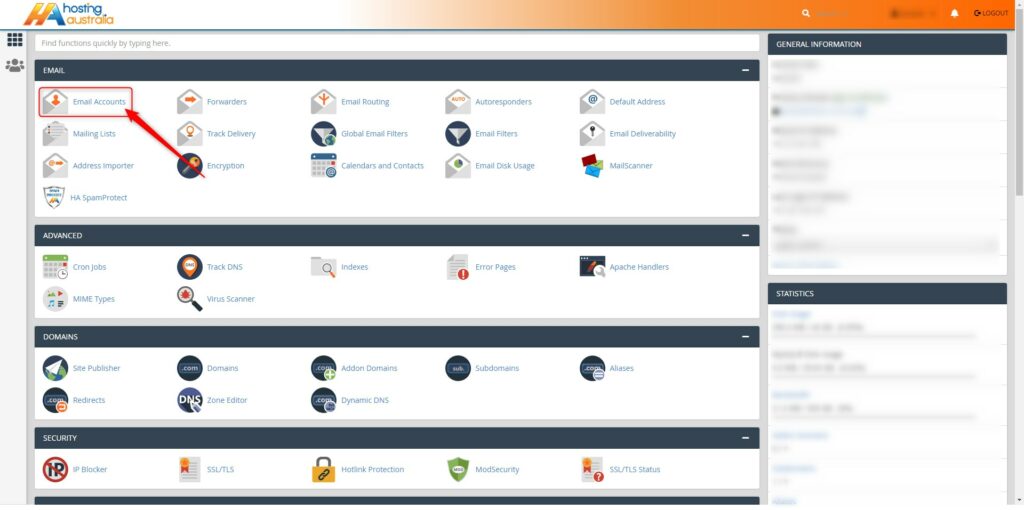 On the Email Accounts page. Select Create.
Fill out the information and adjust the setting needed.
Add the username for @email address.

Set password or generate random.

Selecting provide alternate email – will send a notification and password resets to inserted email address.

Change storage of email account.

Click Create to finalize email address.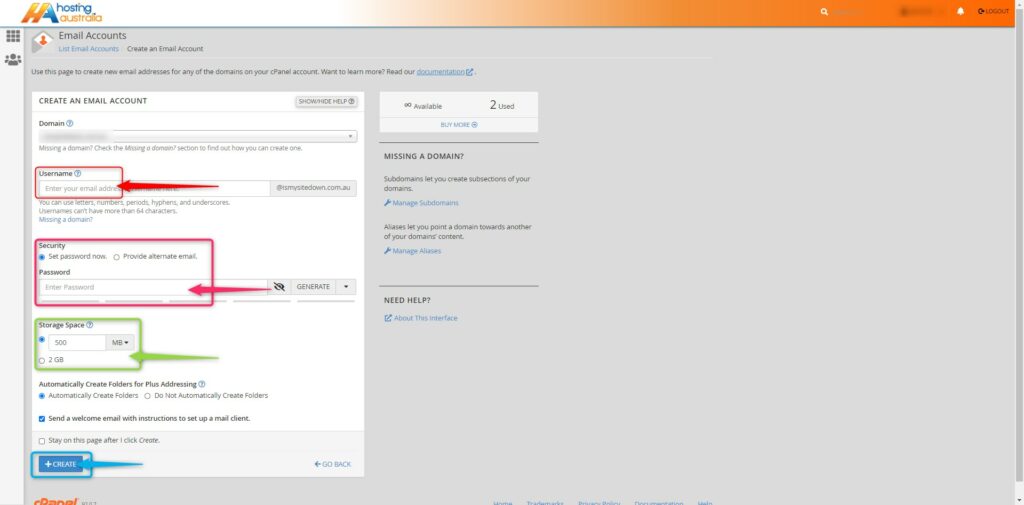 You can create as many new email accounts as your hosting plan allows.

We have also created this helpful how-to video to help assist you in creating an email account.
You can get more helpful hosting-australia.com how-to videos by liking and subscribing to our YouTube channel.