Introduction
WordPress, the world's leading content management system, has revolutionized the way people create websites. Its user-friendly interface and vast array of customization options make it accessible to beginners and powerful for experts. In this article, we'll provide you with a comprehensive guide on how to use WordPress, supplemented with helpful video tutorials for visual learners.
Getting Started: Setting Up Your WordPress Site
a. Choosing a Domain Name and Hosting Provider Selecting a domain name and a reliable hosting provider is the foundation of your WordPress journey. Click here to search for you chosen domain to see if its available..
b. Installing WordPress Follow this link to set up your WordPress site with Hosting Australia.
2. Navigating the WordPress Dashboard
Once your site is live, familiarise yourself with the WordPress dashboard. Login using the URL: https://yourdomain/wp-admin.   Login using your username and password then you will see this page.
3. Creating Content: Posts and Pages
a. Writing and Publishing Posts Learn how to create compelling blog posts.  Pages are used mainly for the Menu links that go to "PAGES".   A post is usually used as articles for your blog.  Posts can be assigned to categories so you can show certain categories through certain pages to keep your topics organised.  You can display multiple Posts in one page as excerpts and clicking a post link or a READ MORE button will take you to the Post Article. So the links are built in saving you having to add lots of links to a page.
b. Designing Static Pages Master the art of designing static pages such as About Us and Contact.  PAGES as mentioned above are the main content of the site and is how you build your site. Generally a page will be build to contain all the content of a topic and can also be used to display all the posts of a category. Uusally  the links in your menus will go to a page. Although you can use these links to go to a post.    POSTS and PAGES are essentially the same thing. You just use them a little differently.
4. Selecting and Customizing Themes
Explore WordPress themes to find the perfect look for your website.
5. Enhancing Functionality with Plugins
Plugins extend WordPress's functionality.
6. Managing Media
Understanding media management is crucial.
7. Engaging with Your Audience
a. Enabling Comments Encourage interaction by enabling comments. NB: Comments can be used to bombard your site with spam. This can lead to hacking if not kept in check.  If you don't need comments then you can disable them via the settings and in the Discussion section uncheck "Do Not allow Comments"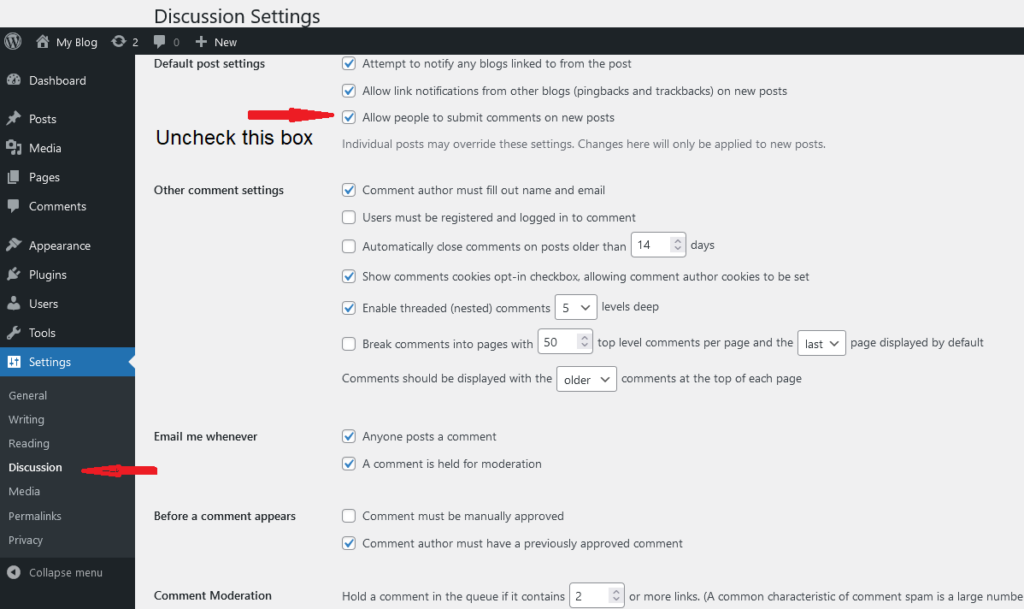 b. Social Media Integration Integrate social media seamlessly.
8. Search Engine Optimization (SEO)
Boost your site's visibility on search engines. SEO is complete separate product to a web development and a specialised skill.  There are 2 types.  One off SEO where you can add some features in your site to help google find you.  Ongoing SEO where you will manage your content and other off-site features such as Google Ads or Social Media marketing.   Choose carefully when finding someone to do this because they can promise all sorts of results but can't prove it until your SEO campaign has been going for a few Months.  You need to allow a minimum of 3 months to see any results.
9. Regular Maintenance
Ensure your site stays secure and up-to-date.
Conclusion
WordPress empowers you to create a stunning website, and with the help of these video tutorials, you can master it in no time. Remember, practice and exploration are key, so don't hesitate to experiment with different features and functionalities. Happy WordPressing!
For all of the above you can find and appropriate Video to show you how.