We keep our smartphones by our side the majority of the time. We depend on them for everything from news to weather to entertainment to communication. You may have your domain's emails set up on your phone using the default email app without considering what alternatives are available. Considering variety is the spice of life, therefore it doesn't hurt to try other apps and find out other features those other applications may offer.
Therefore, I've curated a list of the best email apps for your Android, featuring a section of email clients with innovative features and a modern user experience.

Being an Android user, there is a high chance that Gmail came pre-installed on your device. Gmail is not just used for a @gmail.com account, but any email account including your domain email may be added to the application. Allowing you to switch between each account easily if you do decide to add an additional account on top of your domain email.
One frustrating this about Gmail is the fact the user UI design is changed quite often and sometimes rather drastically. So, once you find yourself getting used to a design it may be changed without notice.
---

Outlook is Microsoft's answer to Gmail. With Outlook once being known for its terrible design, throughout the year's Outlook has improved its visual design and is now able to give the user a functional and easy-to-use design. Microsoft Outlook is perfect if you have an Exchange email through Hosting Australia. Another helpful feature is if you use Outlook on your Windows Device, you will be able to sync your calendars to the mobile application.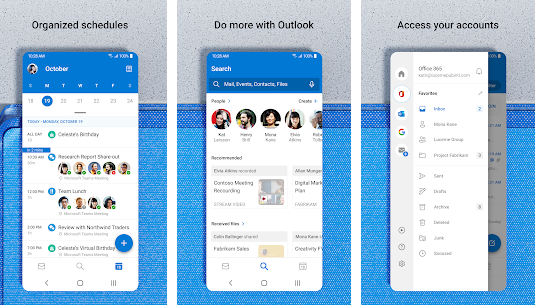 Just like Gmail, there is one frustrating feature…. It is currently impossible to attach a photo to an email. Leaving the only way to send a photo with an email is to embed it directly in the body of the email.
---

Blue Mail is a mail application I personally use myself. Blue Mail Allows users to specify when they wish to receive new mails with customizable mobile notifications, and it can display rich-text signatures, allowing you to wow your business partners with your company logo and neatly formatted contact information.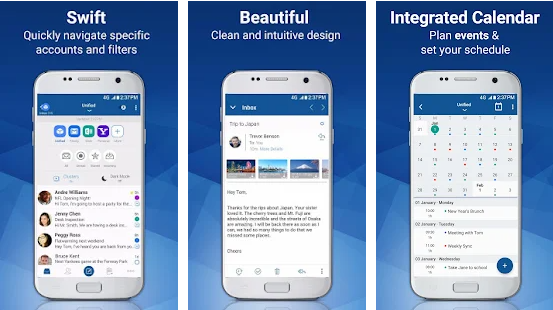 Blue Mail does have a steep learning curve, so it is not recommended for beginners, and if you want to just add your account on your device then and not worry about it. But once you learn these features it will reward you with an excellent user experience with an integrated calendar, widgets, and many unique email management features, it can take some time to get used to it and set everything up.
---

If you prefer to support open-source software, K-9 Mail is a perfect choice. Being a community-driven project, K-9 Mail has more features and better support for IMAP, POP3, and Exchange than many other email clients from large companies. While being free and hosted on Github. It supports multiple accounts, search, IMAP push email, multi-folder sync, flagging, filing, signatures, BCC-Self. However, sadly the interface does feel outdated compared to other apps created by large companies.