Having a business email always draws unwanted attention. This is great, to have your email address posted on your website, Otherwise, how will clients or users communicate with you?
So you end up receiving countless spam and phishing emails generally with the topic like: "Improve your SEO" "Get your ranking higher on Google". These emails ultimately flood your inbox and you will never be able to find important emails again.
Luckily there are methods you can put in place to prevent and keep spamming at bay. Let's discuss the three best methods for keeping spam under control.
Email Filtering
cPanel has a built email filtering that you can apply to an entire domain or induvial email address.
Follow the steps below if you would like to test this method out yourself.
Log into your cPanel. If you need assistance logging into your cPanel, you can view our Knowledgebase article HERE.
From the Email Accounts page, click Email Filters.

Select Manage Filter, then Create New Filter.


Name your filter in the Filter Name text area.

If you want to filter out certain email keywords that you have noticed are used in the spam email subject lines.
Choose your Roles and enter keywords.

Choose how you wish to deal with the email caught in the filter.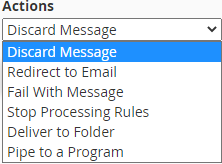 Click Create once you are happy with your filter.

MailScanner
All Hosting Australia hosting services include a basic SPAM Filtering service, called Mail Scanner. This service will deal with low-level spam and provide some form of filtering.
From the Email Accounts page, click Email Filters.

Email Black/Whitelist Settings
You can use this to allow (Whitelist) or block (Blacklist) all emails from a particular address.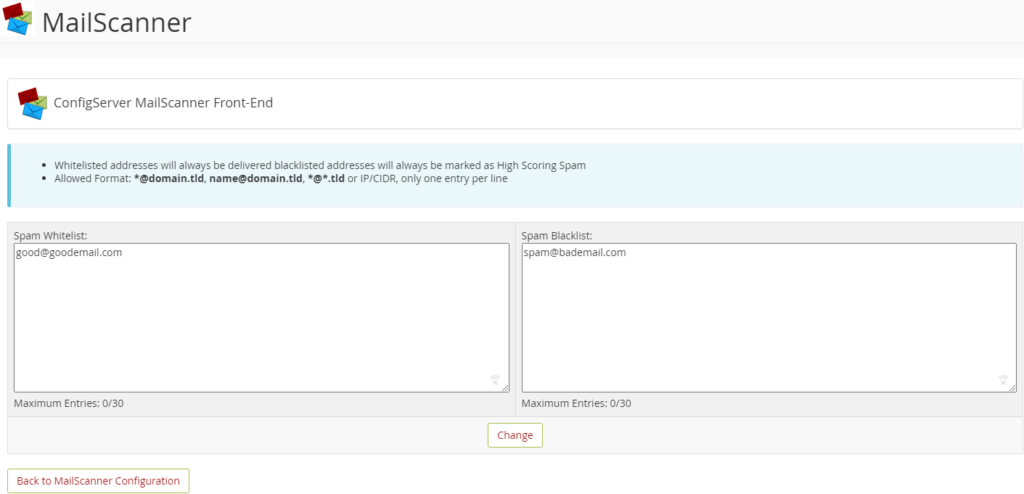 Other Settings
This page will allow you to adjust the filter settings. There are two settings to adjust here, and both are related to SPAM Scoring. Each email filtered via Mail Scanner is assigned a score based on several factors, including Email Content, Location of Sender, Type of attachments, To/From address, and many other factors.
For example, if an email is scanned that ticks all boxes as being deemed legitimate, it will be given a SPAM Score of zero or one.

However, should the email originate from a known SPAM location, have a zip file and a large list of random TO addresses, it would be assigned a higher score, such as 20 or 30.

The two settings available on the Other Settings Page are:

Low Scoring Spam: This setting refers to the lower end of the threshold. And you can set this as whatever score you like. It's recommended to leave this setting as DELIVER in the delivery options section mentioned below, which makes this setting defunct.
High Scoring Spam: This is the most important option when configuring filtering.
The default setting is 20, but if you are seeing a lot of SPAM Delivered, you may wish to lower this to 15 or even 10. This means that any email reaching 10 or 15, will be handled as per the settings below, which is generally to Delete that email from the queue.
Current Settings
This shows an overview of the settings for all the email domains you have configured under this cPanel account.
Change Individual Domain Settings
From this section you can choose a number of options, they are:
SPAM SCANNING – Choose to disable or enable the scanning process.
VIRUS SCANNING – Choose to disable or enable the scanning process.
DELIVER CLEANED EMAILS – This will deliver emails that are cleaned of virus files. It's recommended to leave this as "NO" as any virus-laden emails can still potentially contain dangerous links.
LOW SCORING SPAM – Choose what will happen to emails that reach the low-scoring spam threshold, as described above.
HIGH SCORING SPAM – Choose what will happen to emails that reach the high scoring spam threshold, as described above. Choose to disable or enable the scanning process.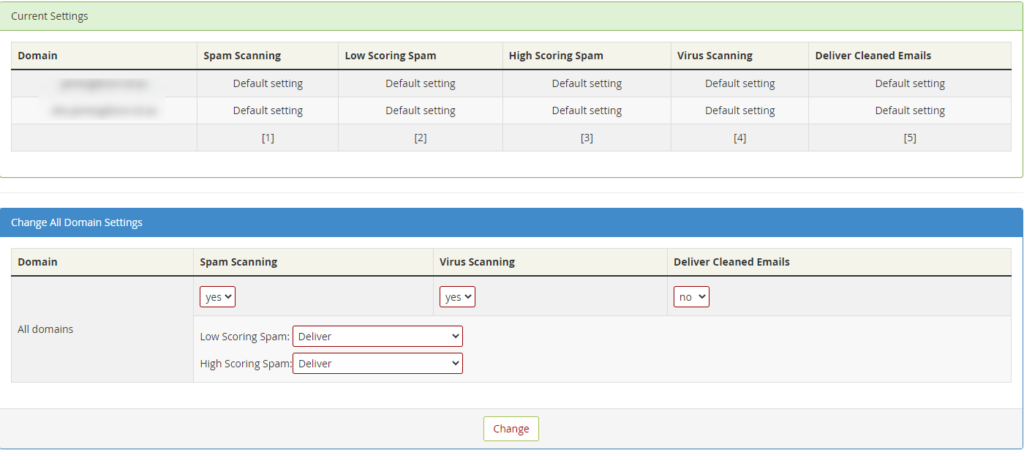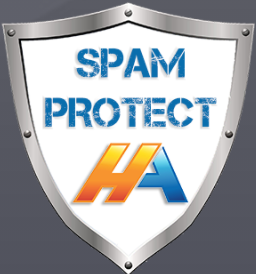 SpamProtect
The final method is your tried and true to Stop SPAM in its tracks, with Hosting Australia's Powerful Industry Grade email filtering product. 99.98% Accuracy when identifying and filtering SPAM. An incredible 0.0001% Rate of false SPAM Identification.
The SPAMProtect package options include inbound and outbound email filtering and archiving solutions. Powered by a cutting edge continuously updated Intelligent Protection & Filtering Engine to ensure your emails are always protected from threats, no matter how often new attacks emerge.
No contracts. You can upgrade, downgrade, or cancel as you need to. No risk.
If you are interested in purchasing SpamProtect service for your domain. Visit our product page!