Website Live Chat:
It's not just for the big brand name companies anymore!
There was a time, up until quite recently actually, when Live Chat was something you only ever saw on the big brand sites. Companies like Pet Stock, Harvey Norman and others seemed to take up the live chat quickly and get some great results, which led to more and more companies installing live chat on their sites.
Although Live Chat has been around for a while – its spent the majority of its early years being used by the bigger companies, as mentioned above. It was rarely seen on small business or owner operated sites. Due to this, it probably suffered from some developmental growth early on and as a result – and as with most new technologies – it had a number of issues early on that were slow to resolve.
Probably the biggest issue was that Live Chat was expensive. (Its not any more – keep reading to find out more!) You had to install extensive code(Software) on your site, then pay for somebody to sit at a keyboard and answer the chat requests.
Made worse by the fact that often the chat consultants were based overseas and didn't really know the in's and out's of your services or products. Have you ever wondered why some companies Live Chat consultants can't assist with what should be a simple query? Instead you are advised to call a 1300 number or go in store – this is usually a sure sign that the chat operator is overseas and has either limited knowledge or no access to secure systems to make the required changes.
Or worse – have you ever come across those annoying "Bots"? Commonwealth Bank is one that comes to mind, called CEBA. Its an automated system that attempts to match your questions via chat, to a pre-defined reply. But it rarely works and is a horrible waste of a clients time – not to mention leaves people frustrated and agitated.
BUT! There is no reason a Live Chat system on your site should have any of the above issues these days. It can be set up cheaply, generally under $150 per site. You or your staff can chat on the site yourself – via Smart Phone, Desktop Apps or a Web Portal, meaning no need to use expensive and un-knowledgeable chat reps – or worse silly automated bots. Meaning clients get a personalised and knowledgeable experience, each and every visit to your website.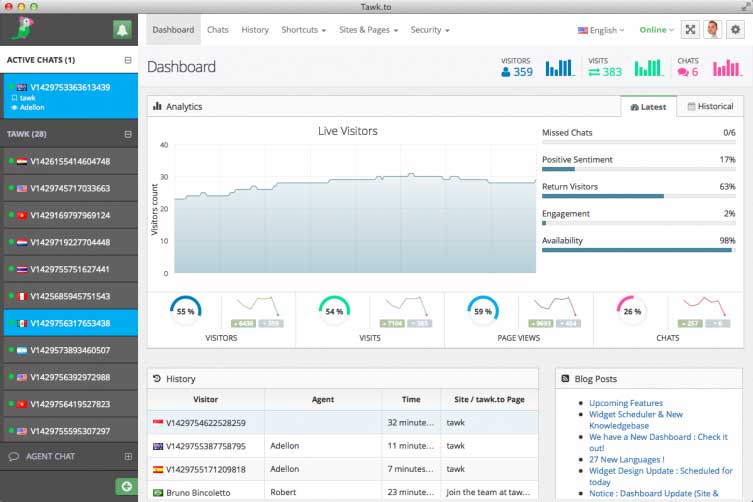 Live Chat for your Site
Get custom icons and colors on your very own Live Chat interface.
Hosting Australia can help you get a fully functional live chat system integrated into you website quickly and easily!
Ensure you are converting site traffic to sales by engaging and personalising your visitors experience.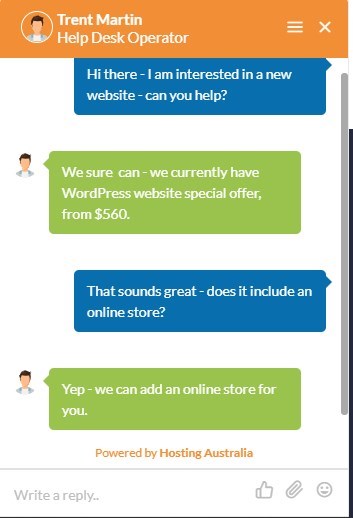 What does Live Chat mean for me?
In short, installing a website Live Chat interface can help you engage clients, or allow them to engage with you.  Both of which will increase conversions and sales.
Common things site visitors, or yourself as the admin can use live chat for are:
Resolving of simple questions or queries.
Offering discounts or coupon codes to help close sales.
Keeping clients on your site by answering questions they have, before they navigate elsewhere for answers.
Qualify sales leads – connect with clients and personalise quotes before sending.
One of the trickiest things for a successful online presence is keeping visitors on your site there long enough to trigger a sale. As a rule, site visitors tend to be flighty – anything can and will distract them.  So customer engagement is key.
Live Chat ticks a lot of boxes in that regards.
It means you can discuss details of what a client needs with them directly – especially useful if you offer varied or tailor made products or services – this helps the client feel all warm and fuzzy and gives you an instant connection and we all know that is Sales 101, online or face to face.
Often if a client cant find an answer in regards to the product of interest to them on your site – they may jump over to Google to confirm something. Not necessarily intending to leave, but any time a visitor leaves your site in their browser to look on Google, the chance of a conversion drops enormously and you risk losing them to a competitor (Or they may get distracted watching You Tube videos of kittens and puppies!)
Live Chat makes a site visitor feel attached to your page. Common manners say its rude to not answer somebody, so rather than a site visitor 'walking' away from your website – if you hook them on a chat, they will often stay engaged.
How do I install Live Chat on my site?
Hosting Australia has been using the TAWK interface for live chat for a number of years. Its quick and easy to install, has multiple interfaces – but best of all, the vanilla version is FREE! For most people, that's all you will need. They do offer plenty of add-ons and integration options, if you wanted to take things further – but these are rarely need to get started.
It also comes with some handy integration tool, including a Live Chat Plugin for WordPress.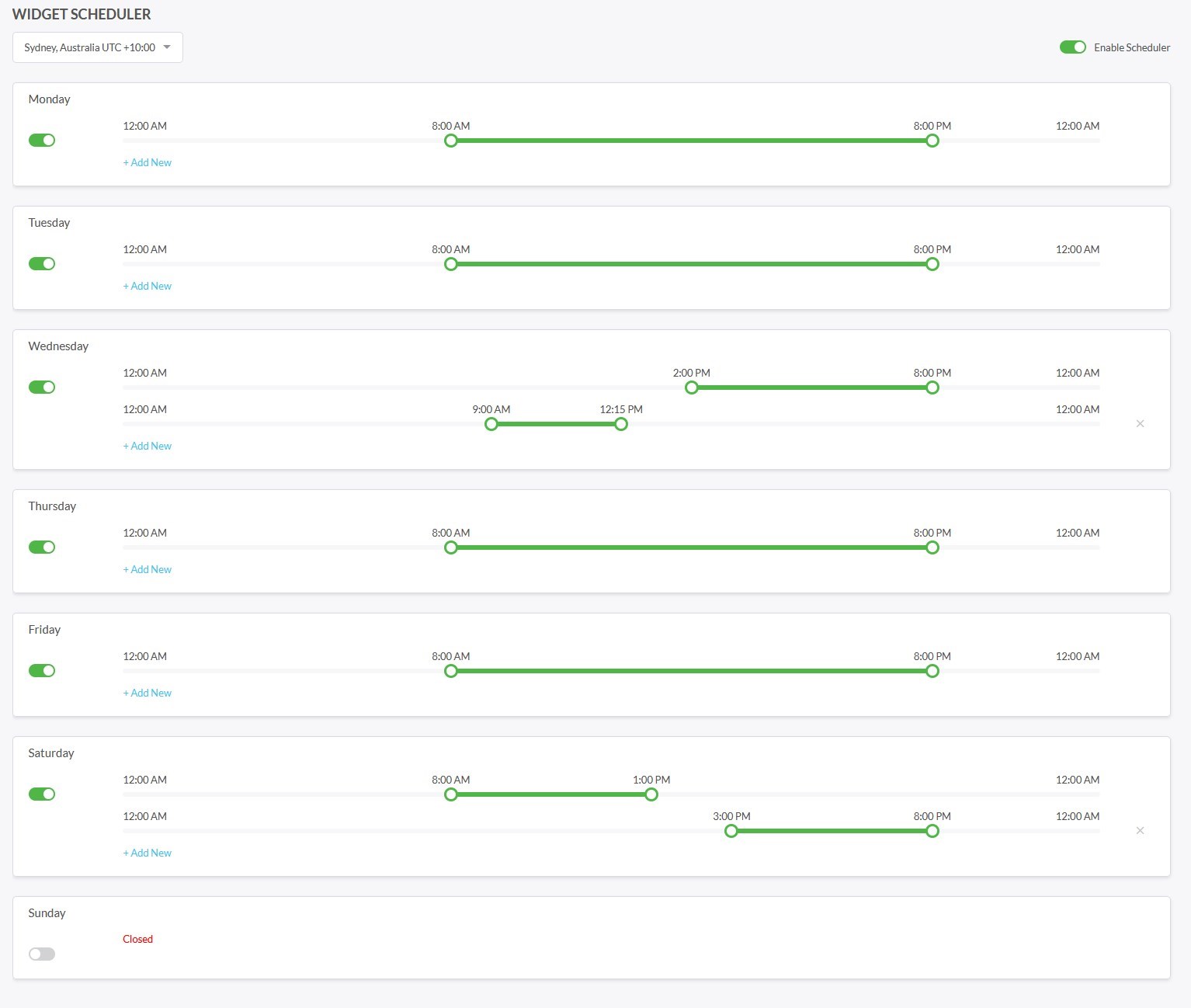 Tawk offers time scheduling – meaning you can set your chat to be online or offline for multiple periods across any day of the week – For example, you may offer live chat from 9am – 5pm Monday to Thursday, and then from 9am to 1pm Friday and offline over the weekend.
You can also create multiple windows during the day, for being offline or online. Say you want offer chat between 8am and 11am, then again between 2pm and 5pm – easy!
Best off all, when offline, the chat window will offer a quick email contact form – so clients can still contact you with a minimum of fuss. You will also know if your "offline" periods are busy enough to warrant more time spent "online".
Tawk also comes with a heap of options for "chatting". There is a great Smart Phone app (iPhone and Android), a Desktop app and also a web interface – meaning you can be online basically anywhere, as long as you have an internet connection.
Head on over to the Official Tawk Getting Started Guide for info on the DIY side of things.
Need help setting up Live Chat ?
Get our team of expert web designers to help you plan and install your Live Chat system. We can handle the entire process, including helping with scheduling, custom chat icons, colors and more! Just fill out the form below and we will be in contact ASAP.