Backups are incredibly important to have just in case the worse happens. There can be multiple issues that could require you to delve into a backup and restore your data.
Brute Force Attacks (Hacking)
This will probably be the first and main reason why you'll think you need a backup plan or maybe the reason you read this if you did have recently been hacked into your Web site. Websites can be compromised, especially if you are not familiar with the update on the framework and plug-in side of things. Brute force attacks are internet Bots that search the web for vulnerabilities on websites, from usernames to passwords of the week, weaknesses in a piece of code of a plugin, or WordPress install. The easiest way to keep those attacks on your door is to keep everything up to date on your website, with regular updates and upkeep, and having a viable backup solution is also the key to getting your website back up and running if it has been compromised by a brute force attack.
WordPress Update Fail
Even when you keep on top of your framework and plugin upgrades, things can always go wrong, having a viable backup solution in place is the key to getting your site to work again is a lifeguard in these situations. Sometimes an upgrade to a plugin or WordPress may cause conflicts between plugins or part of the encoding in your website. This can knock down your website and sometimes prevent you from connecting to the background of your website, your contact form might stop working, forcing you to lose business as prospective customers think you ignore their e-mails for you. If you have a backup solution in place, you can simply re-install your last backup from when your site was working well to see where everything went bad and have your website up and running.
Luckily Hosting Australia provide you with the ability to backup your files via your cPanel and offering off server back up service.
Off-Server Backups
Hosting Australia provides a fully integrated, off-server backup on selected hosting packages. This means that in addition to our nightly backups, which are included on all Hosting accounts, we also securely store backups based on the following archive schedule:
Daily – 5 copies
Weekly – 2 copies
Monthly – 2 copies
Because of the way the above backups cycle through, this means we can generally restore backups taken at least 30 days ago and up to a maximum of 60 days, depending on the cycle.  We can also restore a backup up to 5 days or 1 or 2 weeks previous if required.
Overnight backups restorations are included with your hosting fees, however, there is a charge to have an archived backup restored, you can view the pricing of this on our PRODUCT PRICING page.
NOTE – as per Hosting Australia's terms and conditions, Hosting Australia is not liable for any data loss resulting from a failed backup.
cPanel Backup
Your cPanel allows you the ability to log into your cPanel and create a backup if you want to create a full cPanel back-up please follow the guidelines detailed below:
First, you will need to have access to your cPanel. If you are not sure how to access your cPanel, CLICK HERE.
From the main page in cPanel, click the Backup link, This can be found under the Files header.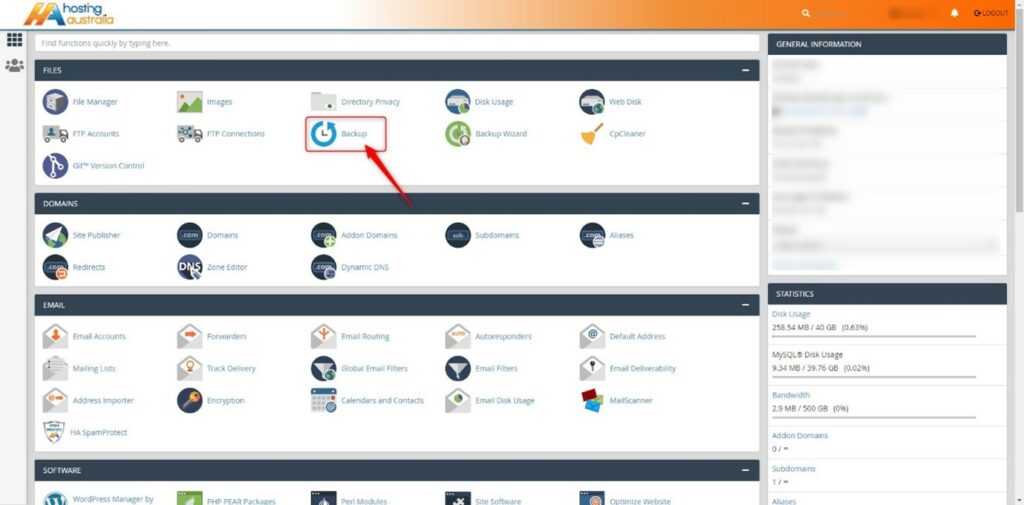 From the Backup page, click on the Download a Full Backup button.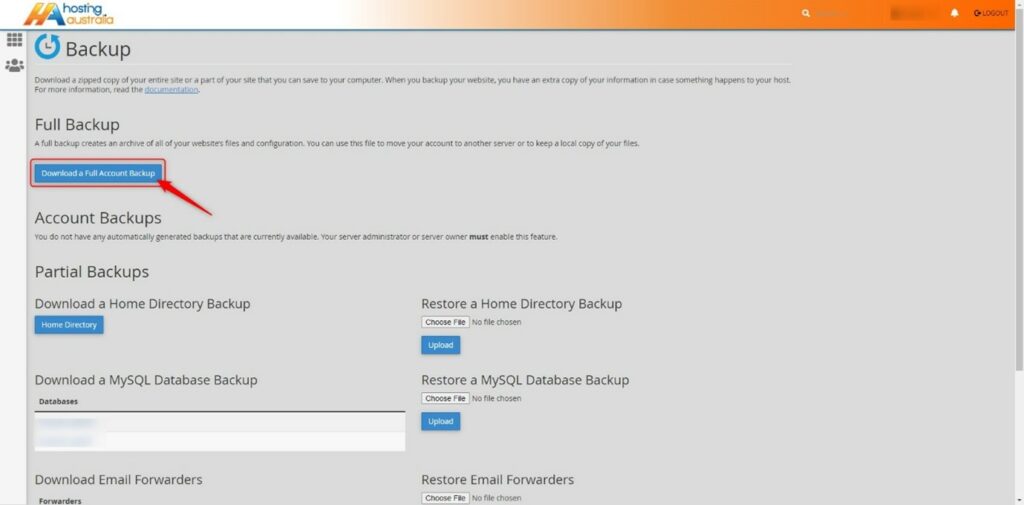 Choose a destination, usually the default option, "Home Directory" is satisfactory.

         º Enter an email address to send a notification to, once the backup is complete.
         º Click on Generate Backup.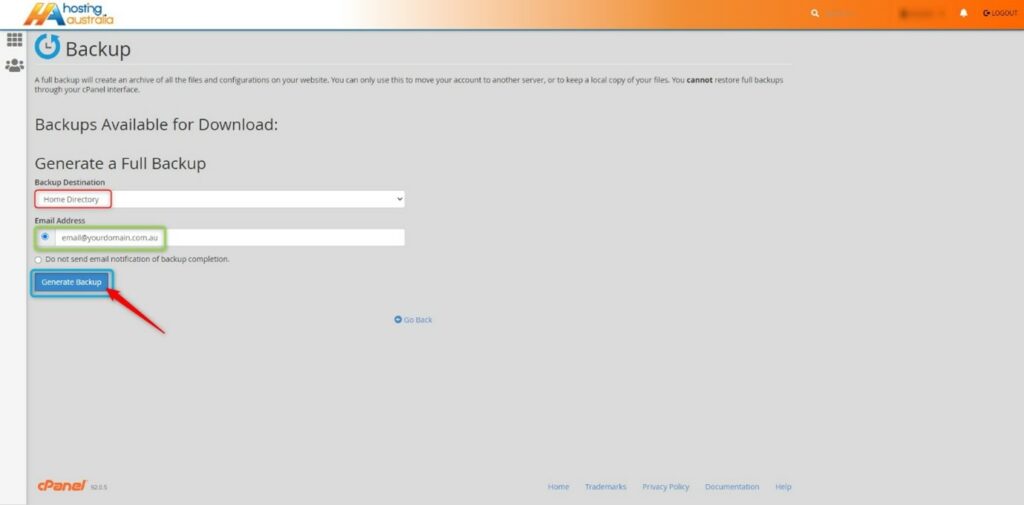 Once the backup is finished, you will receive a notification email. The backup process can take from a few minutes to half an hour or longer, depending on the size of the site.
You will be required to download and store the backup on your device if you wish to restore it on a later day.