Creating a new website can be an intimidating task, it does not matter how small or large the site will be the task can be complicated by the volume of information that requires to be organized and integrated.  Our professional in-house Web Development team creates rough drafts and mockups to plan out the site before getting started. However, the method of creating a sitemap beforehand is a full-proof plan to minimize the back and forth in trying to work out a design for the site.
A sitemap is such a powerful tool for both designers and non-designers alike. It's a valuable planning tool that may assist you in organizing and simplify the content that is required on your site, as well as eliminating pages that can no longer be needed.
Get your point across
When you have a website in mind, like anything else you should have a goal and a purpose. You can usually tell sites apart who have been able to find their goal and purpose as they are often indistinct, hard to navigate and present an overall bad experience for the user. You do not want your visitor left confused and wondering, "I'm not sure what I'm supposed to be doing here."
How to Plan a Sitemap
When you decide to take the steps, in building a sitemap for your website. You need to start by answering important questions.
Who is the demographic of your website (What does the ideal customer look like)?
What is the primary objective of your website?
In comparison to your competition, what is your website's unique selling point?
What information do you consider the strongest (Product info, company history, local information)?
What information do you consider the weakest?
Are you planning to make any changes to the business in the future?
If you can answer these questions, then you are more than ready to start designing a website and plan your site map.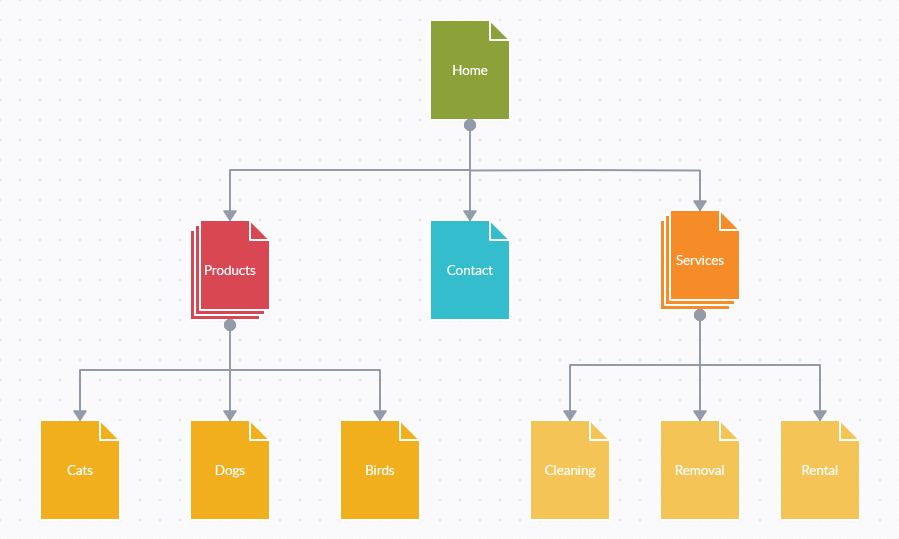 Sitemap Tips and Planning
Plan out your main pages 
Every site has a primary navigation menu. So, you need to decide what these pages will typically be when users visit your website.
Add your Secondary pages
Once you figure out your main navigation, it is important to think of what pages you have within the main menu. For example, if you are products page, you may want to have a secondary page (dropdown) for each product within the initial product page.
Leave room for content expansion
If you answer question 6 of the initial sitemap questions. Then, it is important to leave room for site expansion in the future.
Site Map Tools
Thankfully, there are plenty of helpful tools created just for sitemaps found on the internet. If you want to you could use simple tools such as Word or PowerPoint. But there why settle for them when you can access tools build independently for sitemaps.
Slickplan includes the following features
Drag and drop builder
Custom page type inclusion
Import text file
Cloning
Batch editing
Highly customizable
User permissions
Custom branding
Slickplan offers a free 30-day trial and has multiple pricing plans starting at $8.99/month.

Dynomapper includes the following features
Monitor URLs in sitemaps in Google Analytics
Highly customizable
Custom page type inclusion
Workflow management
URL tagging
Sitemap filtering
User permissions
Custom branding
Dynomapper has a 14-day free trial and pricing plans at $40/month.
Writemaps includes the following features
Customizable
Custom groups
Drag and drop builder
Writemap allows you to build 3 sitemaps for a free or 15-day trial on paid plans, pricing is $14.90/month.