Recently you will have received an email from hosting-australia.com RE: Are your AU domain details current? Just like registering your car. you need to make sure your personal details are correct this way, the registration can be traced back to you. This is the exact same for your domain name, you want to make sure that your business name can be traced back to you just in case the inevitable happens.
So, what is a domain name registrar?
A domain name registrar is a business that handles the reservation of domain names as well as the assignment of IP addresses for those domain names. Hosting-australia.com currently uses two domain registrars, Synergy and Dreamscape, for the registration of your domain names.
When you registrar your domain name with the registrar, your details will be applied to the domain name allowing your or their details to become the registrant. If your domain name expires you may need to provide the registrant details to prove you were the previous owner of the domain name. This is why it is important not to let your domain name expire, you can view how to stop this here!.
How to find out your domain name details?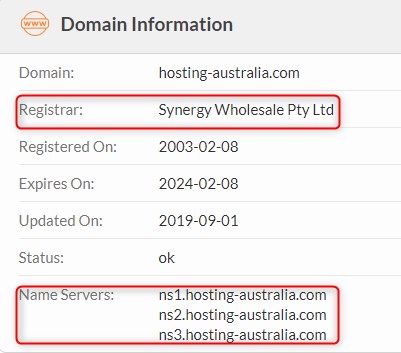 These are a simple site that allows you to easily search your domain name, displaying Registrant/Tech contact details. Nameservers and the Raw Whois Data. This is the easiest and most preferred method for searching domains.  
Can Registrars only sell domain names?
Resellers are another type of organization that sell domain names registrations. These resellers sell domain names on behalf of a registrar in return for a finder's fee. You can registrar as a reseller with hosting-australia.com. If you are interested in starting a reseller business, you can view our reseller plans here.
How do domain name registrars protect your privacy?
Everyone who registers a domain name must fill out WHOIS information for that domain. As previously stated, before this is how the domain name can be tracked back to you. This will include information such as name, email, address, phone number, ABN.
Many registrars provide the option of a private registration. In this arrangement, the registrar's information is provided in the WHOIS listing for that domain, and the registrar acts as a proxy for the registrant.
What next?
Hopefully, you have now realized how important it is to have your domain details up to date. If you have received our recent email but have not acted or are unsure of how to correct these details. Please reply to the email or contact support.