When striving to improve a website's user experience, one of the most crucial aspects to consider is the user's time. How long does it take customers to complete their visit, access your site, and have the intended impact on your company?
Every component of your company should strive to provide the best possible experience for your customers. To make the correct impression on your users, you can improve the user experience in a variety of ways.
Improving your site's performance is one of the most critical aspects since it has a direct impact on how long users stay on your site and their overall satisfaction.
When it comes to optimising the user experience, increasing site performance is critical. The goal should be to provide the greatest possible user experience while keeping a high level of performance on your site.
This article will look at some of the reasons why site performance is important, as well as how to assess your site speed with GTmetrix.
Why is site speed important?
One of the most important website metrics is site speed. Here are some of the primary reasons why it's so important to have a fast website:
The attention span of people is limited
We already know that the typical person's attention span is getting shorter and shorter day by day.  To put this into perspective, most users will abandon your website if it takes more than two or three seconds to load.
SEO is influenced by site speed
Site speed is one of over 200 ranking variables used by Google to determine how to prioritise your content in the SERPs. Google favours you if your site loads quickly. If it doesn't, you'll have a hard time getting people to locate your website.
The better the UX, the faster your site loads
Let's pretend users are patiently waiting for your site to load. That was extremely thoughtful of them. However, if each page takes 100 years to load, it will be tough to keep them on your site. The better the user experience, the faster your page loads.
Let's talk about a tool that can assist you to check your site speed now that you know why it's important: GTmetrix.
What is GTmetrix?
GTmetrix is a site speed check tool that shows you how fast your website is loading.
This software allows you to test how your site loads on a desktop and on mobile devices of various types.
You may also see how your page loads from 65 different servers in 22 different countries. If you're getting traffic from a specific location and want to check sure your site is up to par, this is a great option to have.
How to use GTmetrix to increase site speed
The good news is that GTmetrix allows you to test basic page speed aspects for free. There are a few options for accomplishing this.
Go to gtmetrix.com and type your URL into the "test your site" box for a quick check.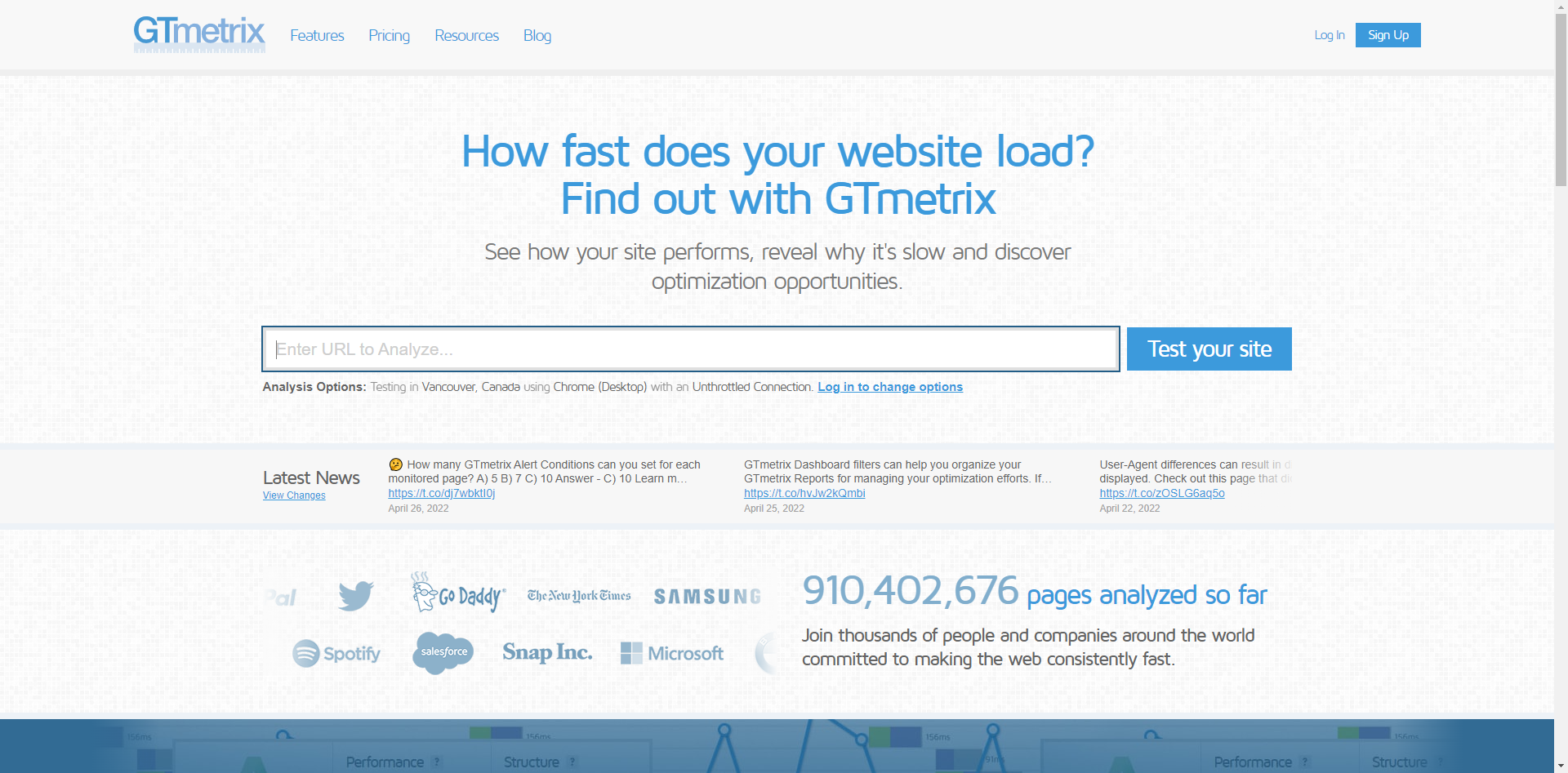 GTmetrix will do a brief examination and return your results after you click "test your site."
The default location for the free account is in Vancouver, Canada, and the default server is Google Chrome.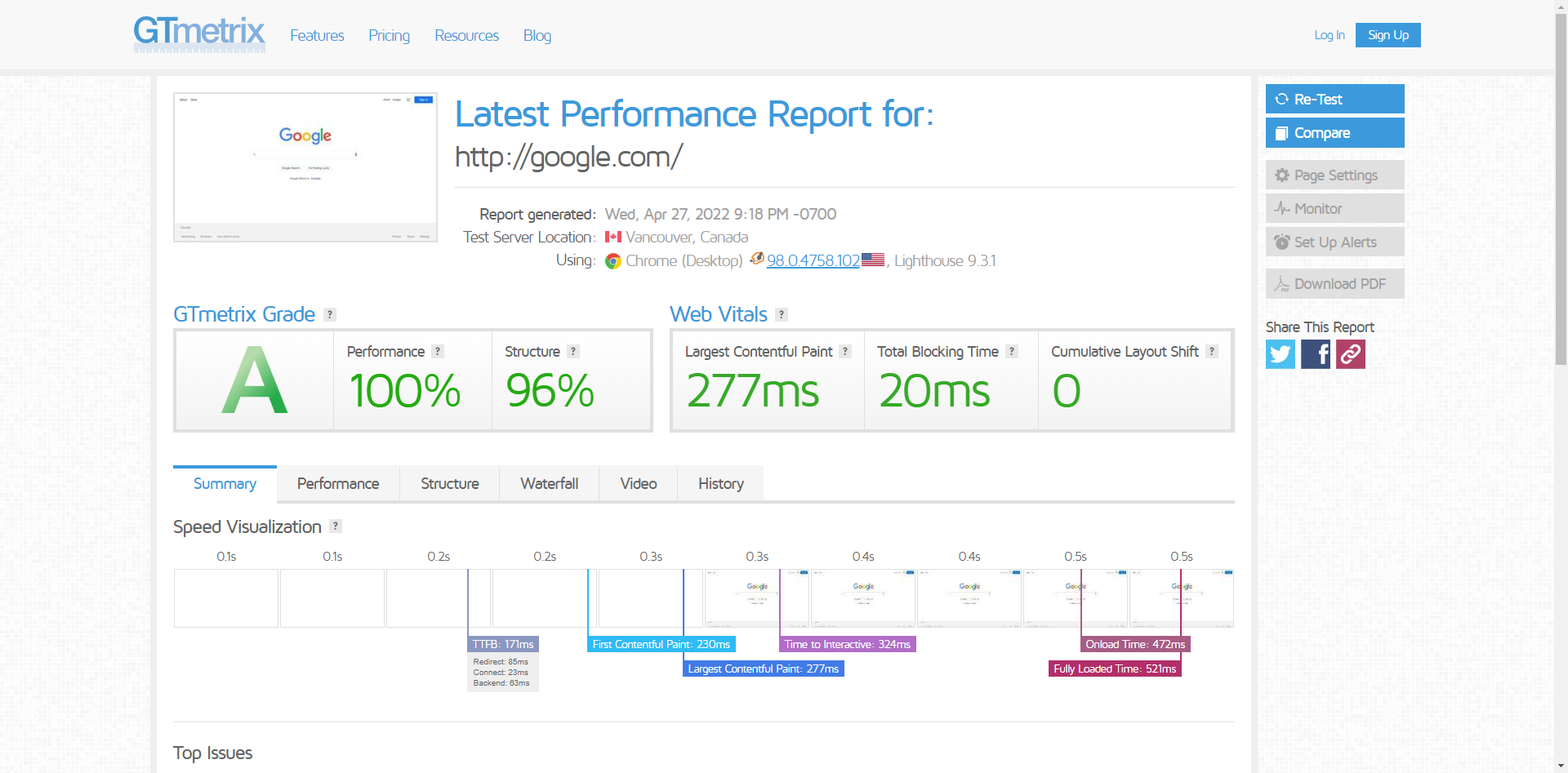 You'll notice the following details:
GTmetrix grade This provides you with an overall score that assesses the performance and structure of the site.
Web vitals This includes elements like the time it takes for your largest piece of content to load, the number of time scripts take up, and CLS.
Speed Visualization The free program also captures your page load in intervals, allowing you to see what elements appear and when.
Performance Speed index, time to interactive, and greatest contentful paint are examples of performance measures.
Structure You'll get an in-depth audit of everything connected to your site's structure and the impact it has on load time if you click on the "structure" tab.
If you simply go to the main page and type in your URL, you will have access to these features.
You can get further access by signing up for a free account.
You'll have access to additional tools after logging in to your free account and running a page test, including:
Locations You may set locations to Sydney, Dallas, Hong Kong, London, Mumbai, Sydney, So Paulo, and Vancouver with a free account.
Devices When you create a free account, you can test from a variety of devices for free, including Chrome (Desktop) and Firefox (Desktop).
Speeds of connection This free service allows you to try out several alternatives ranging from Broadband to 56k.
Historical data You'll have access to more historical reports, as well as the ability to make notes and export data.
Video You can record a video of the page loading and detect bottlenecks when you log in.
Remember that you may only test one page per day with the free account.
To gain access to these extra features, go to the top right corner of the main page and click the "Sign up" box.
The procedure is the same once you've made your account. You enter your website's URL in the URL box, then select additional settings from the "Analysis Options" box before running your test.
When choosing your options, choose the place closest to you and "Broadband fast," as most people have high-speed internet.
After you've completed your test, you can explore all the different findings available to you on the free plan.
For most website owners, using the free tool is sufficient, but registering for a free account to gain access to the additional capabilities is worthwhile.