WordPress sliders can improve the engagement, interactivity, and fun of your website. You can use the right tool to display images, videos, content, reviews, and much more inside an appealing slideshow.
In this article, we'll go over the best WordPress slider plugins for creating beautiful sliders in minutes.
How to Select the Best WordPress Slider Plugin
Sliders allow you to present a large amount of information in bite-sized chunks that are visually appealing and easy to digest. However, there is a drawback to this.
Sliders can sometimes slow down your site, degrade the mobile user experience, and cause compatibility issues. As a result, you must exercise extreme caution when selecting a slider plugin.
Essentially, there are three things to look for in a slider plugin:
Responsive: You want your slider to look great on a variety of screen sizes. As a result, both desktop and mobile users will have a positive experience on your site.
Sliders should be quick and simple to create. If you have a complicated builder, you will miss out on a lot of important information while learning how to use your slider plugin.
Slider plugins can be content-heavy, which increases page load time. It is preferable to select a plugin that maintains website speed. This is critical for search engine optimisation, user experience, and overall business growth.
With these considerations in mind, we've chosen the slider plugins listed below. We also considered affordability so that you can find one that is within your price range.
Let's look at the best slider plugins for WordPress now.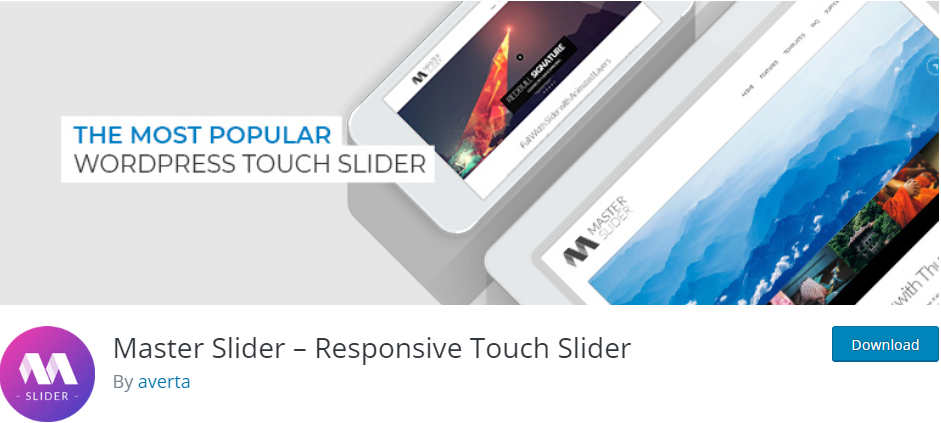 Master Slider is a lovely WordPress slider plugin that allows for touch navigation via swipe gestures. It's fully responsive and mobile-friendly, so it'll look great on any device or screen.
Master Slider is a fantastic layer slider that can convert any HTML content (such as text and images) into layers. Images, videos, WordPress posts, WooCommerce products, Facebook albums, and Flickr galleries are all supported.
Above all, it provides over 90 pre-built templates for quickly creating an image slider.
Because the plugin includes Visual Composer, creating sliders is as simple as dragging and dropping them into the frontend editor.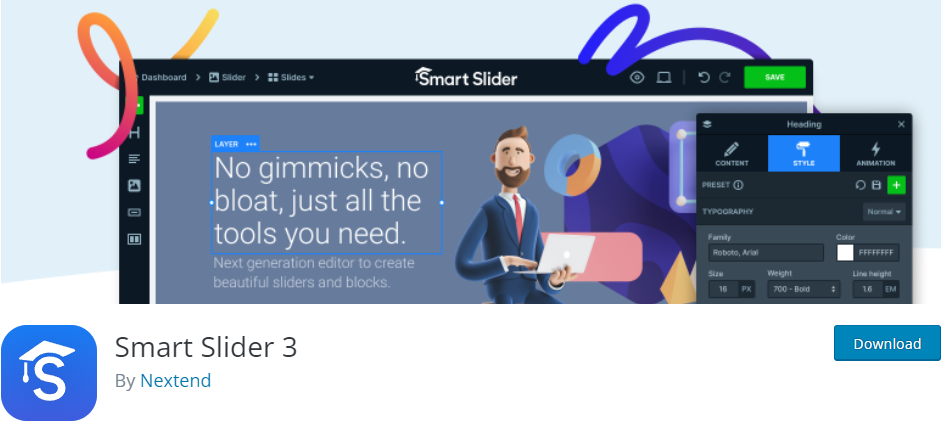 Smart Slider 3 is one of the most powerful WordPress slider plugins. It has a free version that includes fully responsive, SEO-optimized sliders, allowing you to get started without spending any money.
The free version also includes a dynamic post slider that allows you to highlight recent or featured posts. It works for an unlimited number of websites and allows you to create as many image sliders as you need.
You can edit your slides in the pro version of the plugin, just like you can with page builders. It provides hundreds of templates for quickly creating a WordPress slider.
Furthermore, Smart Slider 3 includes 6 distinct layers as well as a drag-and-drop builder for completely customising the slider.
This plugin distinguishes itself by providing premium animations and effects to make your image slider engaging and appealing.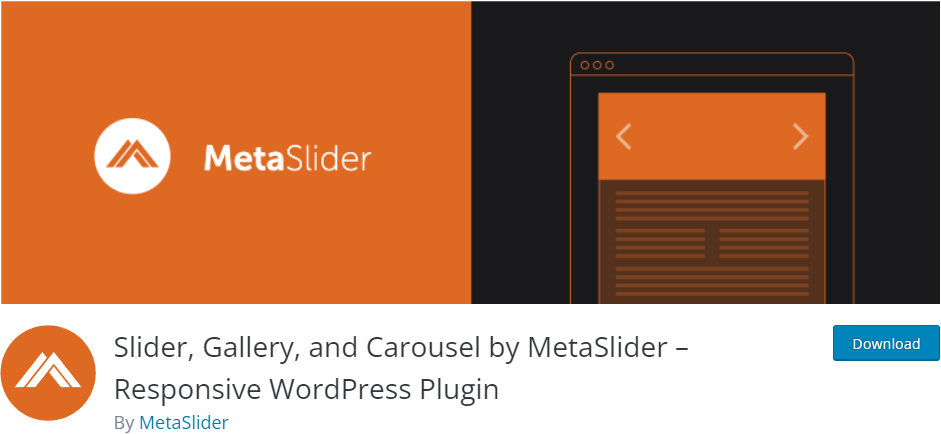 MetaSlider is a lightweight yet powerful WordPress slider plugin that allows you to quickly create fully responsive slideshows. It includes numerous powerful features,  sliders for video, navigation by thumbnails,  slides from the post-fee, an animated layer slider…and much more. The power of four plugins is combined in MetaSlider: FlexSlider, Nivo Slider, ResponsiveSlides, and Coin Slider. As a result, you can select your preferred slider type and use all of its features in a single plugin.
It also works with all of the major WordPress plugins and themes. As a result, conflicts and errors caused by the plugin are unlikely.
MetaSlider is available in both free and premium versions, so you can test its usability by using the free version first.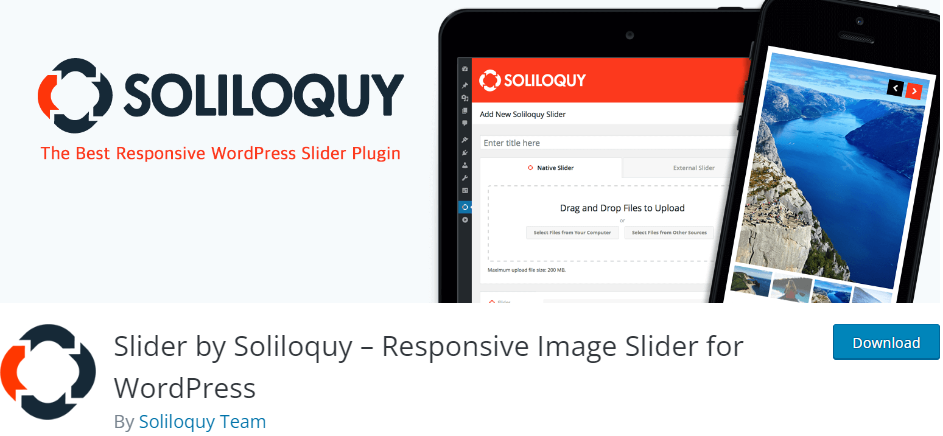 Soliloquy is the most effective responsive WordPress slider plugin on the market. We tested the plugin with all three of the aforementioned factors, and the results were excellent. It's fully responsive, simple to use, and light.
It was developed by a team of WordPress experts using high-quality coding and cutting-edge technology to provide the best features for creating beautiful sliders.
Soliloquy has a simple and user-friendly interface that allows you to easily create and configure sliders.
It is well-integrated with WordPress and allows you to use images from your media library. As a result, you can easily add images that you've previously uploaded to your site.
You can easily embed a slider in your pages and posts once you've created it using the block editor. If you want to place it elsewhere on your site, Soliloquy allows you to do so with a shortcode, widget, or template tag.