Whether you have a single location or several, showing readers how to get to your business is critical. You can accomplish this by installing the WordPress Google Maps plugin on your website. Visitors can plan their routes and find the store that is closest to them this way.
In this post, we'll go over Google Maps plugins and how they can help your business. Then we'll look at some of the best options on the market. Let's get this party started!
What Is a Google Maps Plugin for WordPress?
Google Maps is probably already familiar to you. This app can help you find stores, restaurants, business addresses, tourist attractions, and other useful information: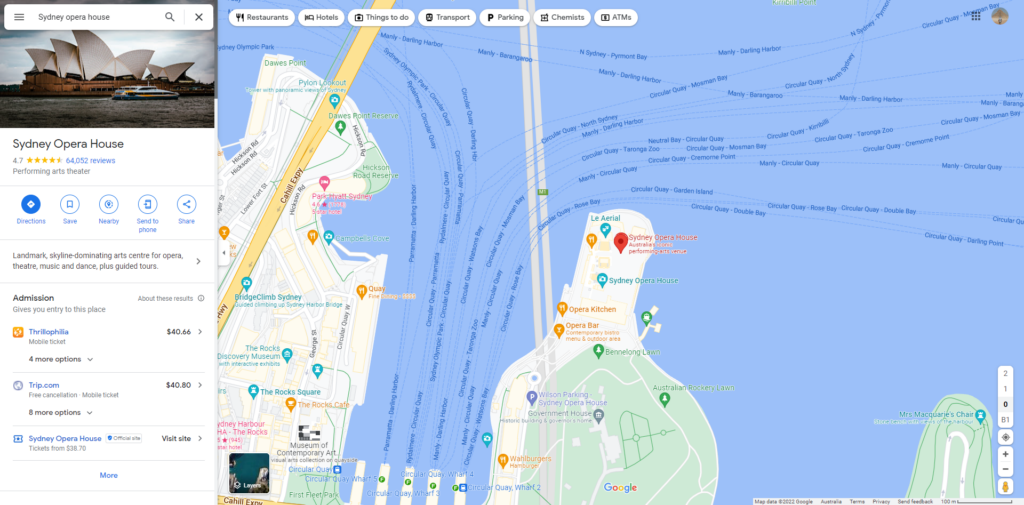 It provides satellite imagery as well as 360-degree views of streets in various cities. Furthermore, Google Maps allows you to plan your route to a specific location using various modes of transportation.
This interactive map can be embedded on your website using a WordPress Google Maps plugin. You could, for example, include it in your contact page or footer. Users can easily see where your business is located this way.
You may be able to add multiple markers to the map depending on the tool you use. These can be extremely useful if you have multiple stores or offices.
Some plugins also allow you to provide directions and display different routes to your store, saving users time. This convenience can help you attract more customers to your company.
For example, a user who visits your business website while on the go can quickly determine the quickest route to your store based on their current location. They can then arrive without having to use a third-party website or app.
4 Best Google Maps WordPress Plugins
Including a WordPress, and Google Maps plugin on your website can help drive more traffic to your physical location. We've compiled a list of the best tools on the market, based on their features, ease of use, and customization options.
Let's examine each plugin in detail. Please keep in mind that some of these tools will require a Google Maps API key.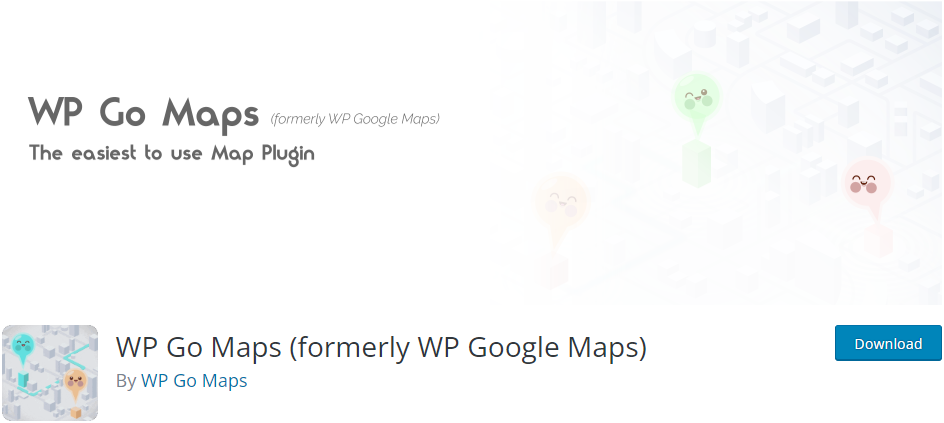 WP Google Maps makes it simple to include a map or store locator on your WordPress site. You can customise the Google map and then use a shortcode to insert it into any page or post. Furthermore, even with the free version, you can use as many markers as you want.
WP Google Maps Key Features:
Select one of nine map themes or create your own.
Make as many map markers as you require.
Draw polygons to show catchment areas.
Display the routes to your outlets.
There are four types of Google maps: roadmap, terrain, satellite, and hybrid.
You can use polygons in the free version to show users which areas or addresses you serve. These functions are useful if you run a delivery service or a local clinic.
If… WP Google Maps is for you.
You have several stores and offices and would like to show readers how to get to each one.
You provide a delivery service and want to highlight the areas in which you operate.
WP Google Maps is free, with a Pro version starting at $39.99 USD.
Another tool that can quickly create a customised map on your site is Map Block for Google Maps. This plugin, as the name implies, adds a Map block to your site. This element can then be used in posts, pages, sidebars, and other places.
Map Block for Google Maps Key Features:
Place the Map block wherever you want on your website.
Enter your company's address or GPS coordinates.
Your map's height and zoom level can be adjusted.
This plugin is very simple to use. After you've installed and activated it on your site, all you have to do is go to a page, add the Map block, and customise it to your specifications.
This Google Maps Map Block is for you if…
You simply want to add a map to your website without any advanced customizations.
You're using a block-based theme and need a quick way to add a map to your site's sidebar, footer, or other areas.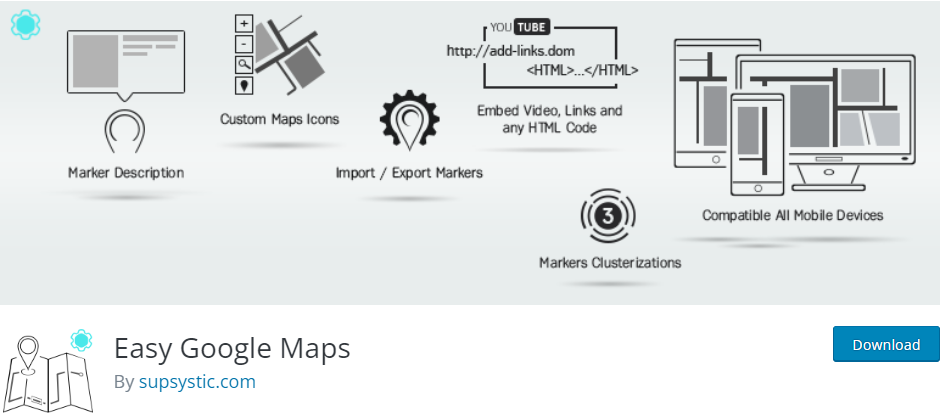 With Easy Google Maps, you can quickly create a fully responsive and highly customizable map. You can also add an unlimited number of markers and locations with this plugin. You can also personalise your markers with text, images, video, and other media.
Key Features for Easy Google Maps:
Display multiple markers and locations with Easy Google Maps.
Map markers can be personalised with photos, text, and other elements.
Use shortcodes to insert your customised maps into pages.
A variety of settings allow you to customise the look of your map.
You can add a description to each marker on the map if you want to provide more information about your outlets. You can also show a picture of your store or office.
If…, then Easy Google Maps is for you.
You have several stores and want to provide users with useful information about each one, such as the types of products sold or the hours of operation.
You want more control over the appearance of your Google map.
Google Maps is simple. Pricing: Free, with a Pro version beginning at $46 USD per year.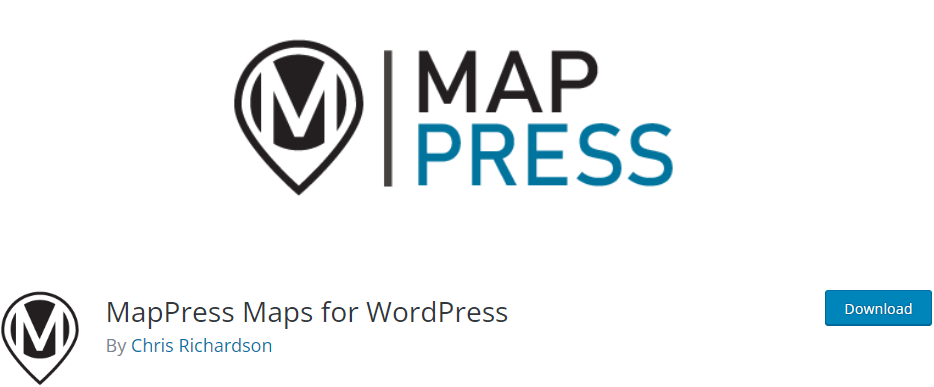 MapPress Maps for WordPress allows you to create an unlimited number of maps using either the Gutenberg or Classic Editor. It also includes a popup map editor for simple customization. You can also add as many markers as you want.
MapPress Maps for WordPress Key Features:
Markers can be added indefinitely.
To represent catchment areas or routes, draw shapes and lines.
To display your custom map on pages, use the MapPress Map block.
You can create multiple maps for your site using the MapPress Maps popup editor. You can also use different shapes to highlight your location and the areas you serve.
MapPress Maps for WordPress is ideal if…
You'd like a plugin that works with both Gutenberg and the Classic Editor.
You want to make several maps for your website that highlight different locations.
MapPress Maps for WordPress is available for free, with a Pro version starting at $49.95 USD.
Conclusion
If your company has a physical location, you must include Google Maps on your website. You can use markers to direct customers to your stores or offices, as well as to highlight the areas that you serve. Overall, using a map will help visitors find you more easily.
Fortunately, there are a number of WordPress Google Maps plugins available. You could use a tool like MapPress Maps for WordPress to create simple maps.